How Astaxanthin Helps Grow Hair During Menopause
Astaxanthin (pronounced as-ta-zan-thin) may have a funny spelling, but let it be known: this ingredient is no joke. 
The unique antioxidant is a xanthophyll carotenoid, and unlike some of its carotenoid counterparts, such as B-carotene, lutein, and zeaxanthin, it is found to be more bioactive. Also helping to set astaxanthin apart from other carotenoids are its interesting chemical properties, particularly its antioxidant power. And while other carotenoids can be converted into Vitamin A, astaxanthin cannot. An unfortunate caveat of astaxanthin is its inability to be synthesized in the human body — meaning we need to get it through diet. How, you ask? 
This tremendous antioxidant is primarily found within the marine environment, especially seafood, plankton, microalgae, and krill. (Fun fact: Astaxanthin contributes to the pink-ish hue of sea life like shrimp, lobster, and salmon.) It can also be found in fungi and complex plants.
Astaxanthin's role in Nutrafol Women's Balance 
Despite astaxanthin being found in various organisms, the microalgae Haematococcus pluvialis is thought to have the greatest ability to accumulate the antioxidant. And that's precisely why Nutrafol chose H. pluvialis as one of the star ingredients of Nutrafol Women's Balance, designed to support women's hair health during menopause.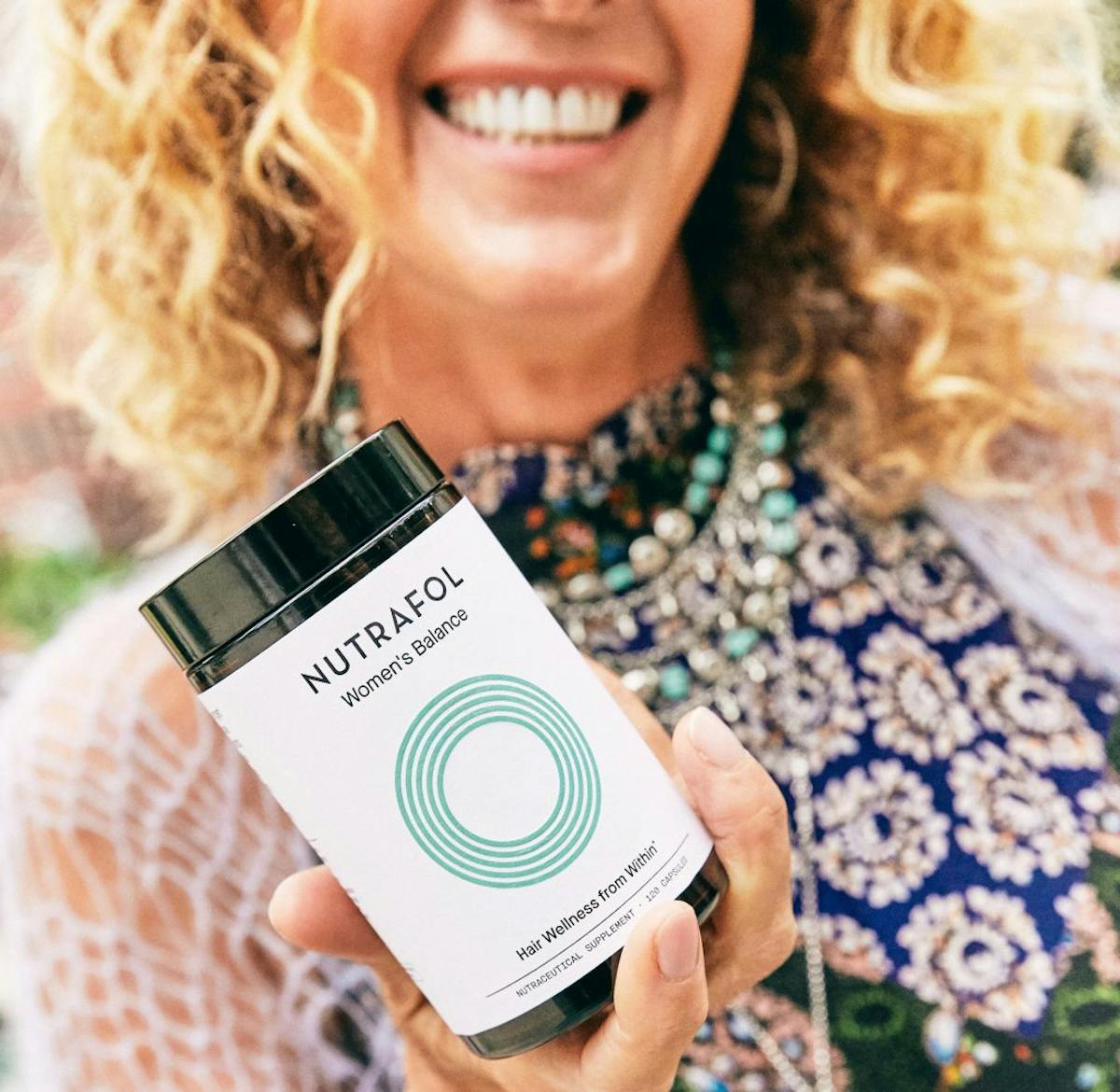 Women's Balance is a daily hair supplement for women experiencing menopause.
Over the course of the natural aging process, antioxidant levels can decline. When coupled with the decreasing  estrogen levels that occur during menopause, we see an uptick in oxidative stress levels based on the concentration and chemical structure of this hormone. Menopause can lead to a creation of a pro-oxidant state in the body. Enter once more: your friend, astaxanthin, which is backed by several clinical studies, including one for healthy aging.
Sometimes referred to as "Super Vitamin E" (thanks to its antioxidant activity) and appearing to outperform vitamin C, E, and other carotenoids, astaxanthin has been found to help scavenge free radicals and assist in supporting the immune system, which is necessary to promote healthy hair growth.
Additionally, research suggests astaxanthin may provide cardiovascular support and could protect against harmful inflammatory pathways and oxidative stress. Studies of astaxanthin's promise for other health concerns and areas of the body, including diabetes, reproduction, and ocular health, are ongoing.   
Astaxanthin may not be as well-known of an antioxidant as others, but this up-and-comer demonstrates a tremendous ability to be a true headliner, especially for women experiencing menopause.